Trees For Life grower, Clive Berry, at his Adelaide home. Photo by Wendi Berry.
During August and September, Third Fuse will donate to Trees For Life $10 from every paperback sale of Red Reflection and $4 from every e-Book. You can also donate direct to Trees For Life via their website [visit TFL here].
Habitat restoration: as much about protecting ourselves
I sometimes wonder if talking about threatened plants and animals in Australia is enough to really drive change in how we prevent and address past habitat loss in Australia. After all, we have known the impact of habitat loss on species for decades but our biodiversity continues to decline. Since 2011, the list of nationally threatened species and communities has seen the addition of 30 new ecological communities, and 44 animal and 5 plant species1. The picture is just as bad in other developed countries and, sadly, developing countries are likely to go the same way as they struggle to keep up with demand for agricultural land and edge closer to our own poor land use figures.
"In Australia, only 23% of our total land use area comprises nature conservation or protected areas."

Australia: State of the Environment 2016 – Land State and Trends.
Maybe we need to focus the conversation on the key pressures that habitat loss creates for biodiversity in general, such as fragmentation and declining quality of habitat, invasive species, climate change, changed fire regimes, grazing and changed hydrology. But even these conversations have their difficulties. These pressures are complex and are largely the result of past land clearance. We also exist within a system of mostly private land ownership in Australia, which makes addressing these community problems difficult across individual land tenures. Since 1970, freehold land cleared for pasture has been the main contributor to de-forestation in Australia3. But this key driver, and these resultant pressures on biodiversity, are relatively unspoken about and it comes down to individual land owners seeing some benefit to native vegetation on their properties amidst individual economic priorities. It is no wonder we struggle to do anything about biodiversity decline.
So maybe we need to focus the conversation on how these pressures are impacting on us and our economy? Our land-based farming systems are being significantly impacted by these land management issues, which have been primarily caused by that same past land clearance and land modification. Globally, it is now estimated that 23% of land areas have seen a reduction in productivity due to land degradation4. In Australia, this includes dry-land salinity (impacting on the yield of annual grain crops), soil erosion, poor water quality and the financial costs associated with the presence and control of invasive species (estimated to be costing Australians $13.6 billion annually5).
There is a line in my book, Red Reflection, that I think really brings home this message about how human modification of our world is not only impacting on species but impacting on us: 'It can't keep up with all the rain,' Ellin said. 'How can it keep up when the cleared land upstream is rejecting so much water?'. Not surprisingly, this line is from a chapter called 'The Flood'.
Trees For Life: a solution story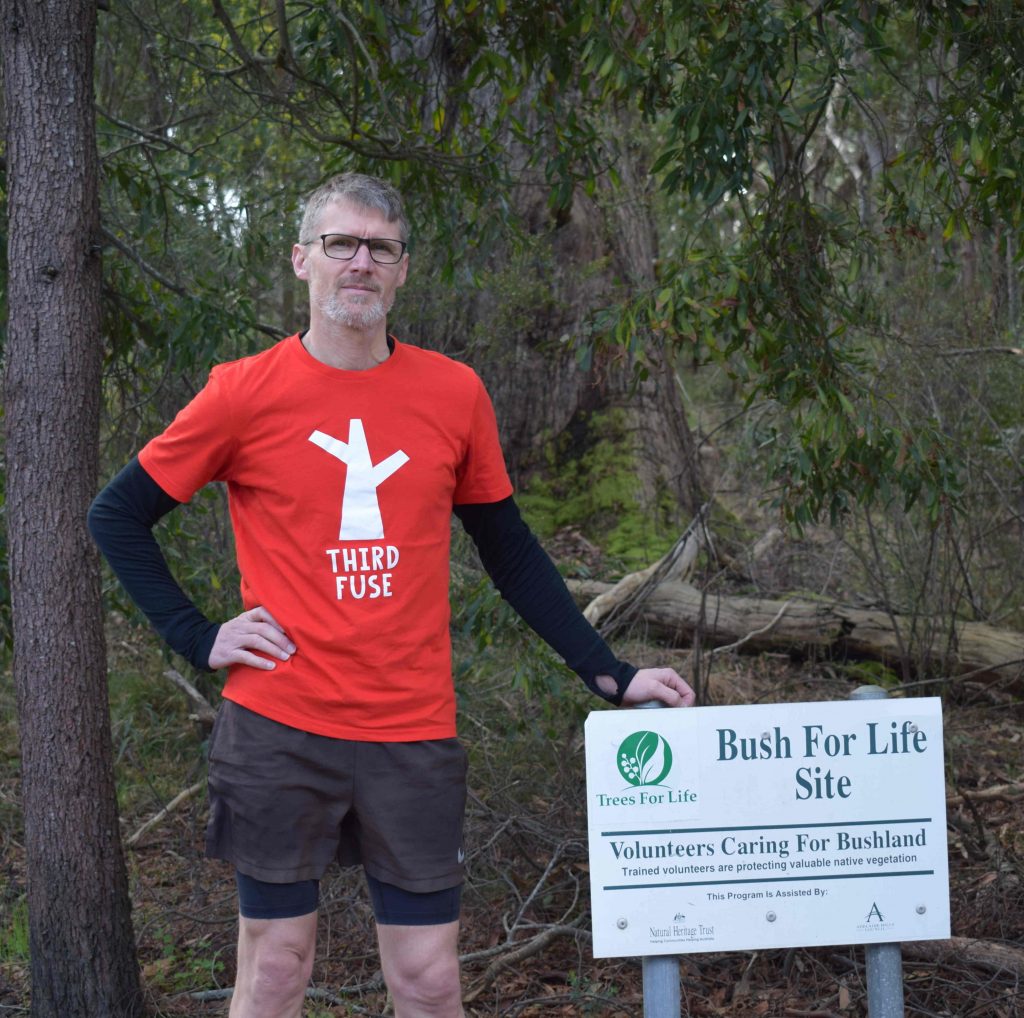 There is an organisation in South Australia that I really admire for their understanding of the impact of past land clearance and the importance of everyone in our community respecting natural habitats for, not only threatened species, but for our own benefit.
Trees For Life exemplifies the need to engage all South Australians in habitat restoration, and they do this through their core values and the breadth of programs that they run. On one hand, their Bush For Life program supports the protection and restoration of existing bushland, with volunteers looking after over 300 sites on over 4,000 hectares6. This work is so important but Trees For Life is also striving to extend this message beyond these protected areas and beyond those of us that are totally committed to protecting what's left to prevent ongoing species decline. This year, they celebrate their 40th year of the Tree Scheme, which has involved countless volunteers from diverse backgrounds helping over 50,000 landholders restore both bushland and farmland through the planting of over 30 million trees and shrubs7. In the words of Chief Executive Officer, Natasha Davis, "Improving the extent and quality of native vegetation is also crucial to our own well-being and the productivity of the land. We need to find new ways of working in a warmer climate and new partners to support our work. We must learn from traditional knowledge and take the community with us."8
It is easy for people like me, who are on the extreme end of the conservation message, to criticise the broader population and farmers for past land management mistakes. But this tends to lack understanding of the context in which many past land management decisions were made. It also tends to create a barrier to change, as if there weren't already too many barriers (limited resources for habitat restoration, the complexity of ecosystem management in changed landscapes, and the complexity of making change in a predominantly private system of land ownership in Australia – to mention but a few).
"We value all South Australians from all walks of life; we value each individual who contributes, and believe everyone can take action to protect the land we love."

Trees For Life Strategic Directions 2020-2022.
Trees For Life's Paddock Tree project is another example of their strong desire to involve all South Australians in actions to protect the '…land we love'. The Paddock Tree project is all about volunteers growing trees for farmers for the mutual benefit of endangered species (like the South-eastern Red-tailed Black-cockatoo) and farmland by providing shade and shelter for stock9.
I once asked my brother-in-law, Clive, about his experience growing for Trees For Life. He explained that he started volunteering for Trees For Life in order to foster his then six-year-old son Beau's interest in planting trees but he also said he believed that '…more trees is a good thing.' Fast forward to 2021, Clive is in his eighth year of growing for Trees For Life and will be involved in planting this year's trees at the property of the landholder he grows for at Monarto as a way of addressing erosion problems in a creek but also to provide habitat for local birds.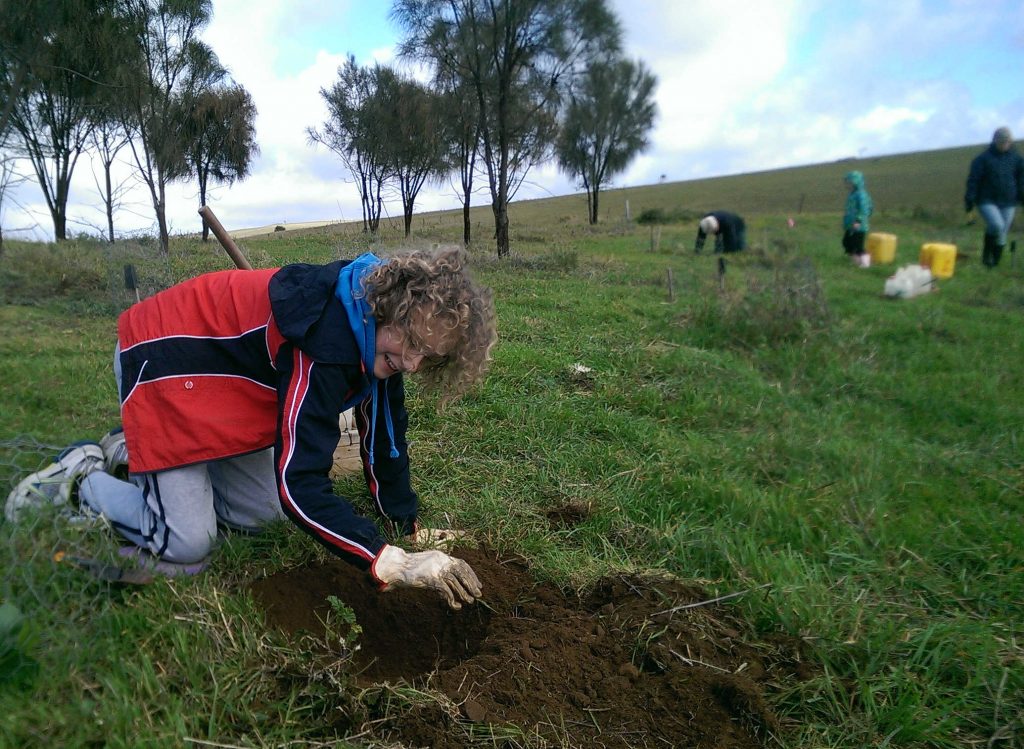 For me, it is obvious that simply focussing the conversation on threatened species and protecting the small amount of intact bushland remaining in Australia is not enough to save species or prevent further land degradation in Australia. Instead, we need a world where every person is contributing to addressing habitat loss and climate change for our own sake. And we can do this through habitat protection and restoration measures, whether by growing seedlings in your backyard, setting aside a greater proportion of your property for habitat, planting paddock trees, or simply doing everything you can in your daily life to minimise the impact on other species and the land on which we rely so heavily on for our survival. Trees For Life are contributing to all these things through their programs that are engaging South Australians from all perspectives on conservation. So, if you are not sure where to start, do what my brother-in-law, Clive, did and start growing for Trees For Life, or become a bush-carer on one of their Bush For Life sites.
One last comment from me that might encourage you to volunteer for Trees For Life or another conservation organisation: Some of my most fond memories are of the places I got to visit and spend time at when I was out volunteering. They have often been places that very few people ever see or visit, away from the madding crowd of most tourist places.
Please feel free to leave a comment below. I am particularly interested to hear about land management actions you are taking on your own property (no matter how big or small your property is) to address habitat loss and climate change, but also to ensure your land use is sustainable for future generations.
Useful links:
Australia: State of the Environment report 2016
CSIRO
5. Hoffmann, Ben; Broadhurst, Linda. The economic cost of invasive species to Australia.. Neobiota. 2016; 31(1):1-18. https://doi.org/10.3897/neobiota.31.6960
Trees For Life